C

ultural Awareness Profile
MINIMIZE MISUNDERSTANDINGS.
MAXIMIZE PRODUCTIVITY, RESULTS, AND SUCCESS.
When differing work-styles collide in multicultural environments, frustration can occur. The Cultural Awareness Profile Training helps you and your team identify these differences and gives proven and concrete strategies that will address potential conflicts and will pave the way for a successful business.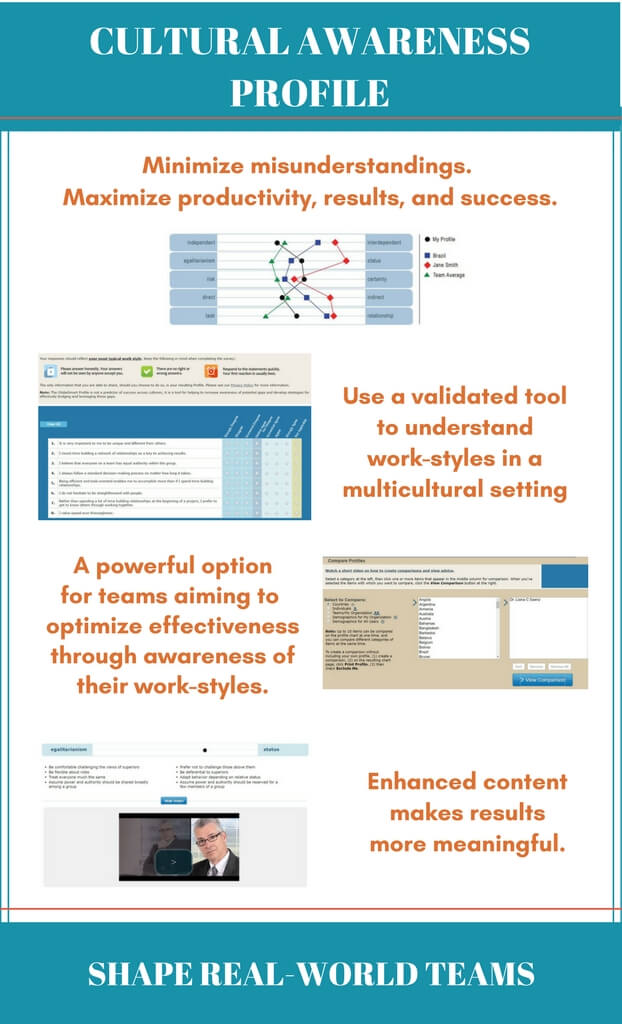 Shape Real-World Teams
The Cultural Awareness Profile training utilizes an effective, statistically validated tool that helps identify the preferred work style in an interactive format. This process will give business professionals the foundational training to improve their cultural agility in the workplace.
Through this program participants will be able to:
Identify how culture impacts business, communications, leadership interactions and effectiveness.
Gain knowledge of the "why" behind common behaviors influenced by culture.
Use a validated tool to discover and understand work-styles in a multicultural setting.
Compare your unique work-style with other cultures and colleagues.
Get advice on how to work more effectively within multicultural environments.
Design learning to action strategies adapted to a global mindset on the job.
The Cultural Awareness Profile uses data from industry-leading cross-cultural researchers around the world, so participants can feel confident they're getting a valuable resource they can trust. Over 1,000,000 people have chosen this training as a resource to support their global business interactions.
Enhanced content creates more meaningful results
The training includes short videos and articles with people who have different work styles and who interact regularly. The purpose of this exercise is to have a better understanding of their cultural work profiles & how those profiles might look in the real world.
Practical Learning Approach
A Certified Facilitator and Coach with years of hands-on business experience will lead participants in a carefully constructed conversation, focused on their needs, their challenges, and their doubts. The key to the session's effectiveness is found in the practical learning methods used, including:
Group and individual activities that encourage participants to develop cultural self-awareness & strategies for navigating through differing work-styles.
Discussions and real-world examples that provide an in-depth understanding of the information.
Practical advice on how to be most effective when working with the different cultural styles or different colleagues in multicultural environments.
A "commitment card" that helps participants set goals and define measurable and concrete actions to approach work with a global mindset.
Specific Business Needs
The Cultural Awareness Profile Training session is flexible in order to meet the specific needs of each business. We can add one of the following options to your training: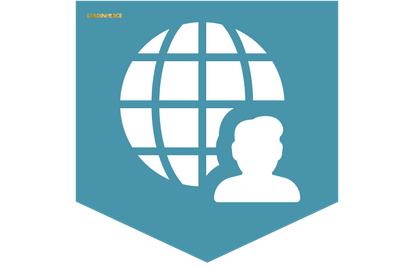 Global Mindset
The Global Mentality program focuses on enhancing cultural agility when working in multicultural environments or globally.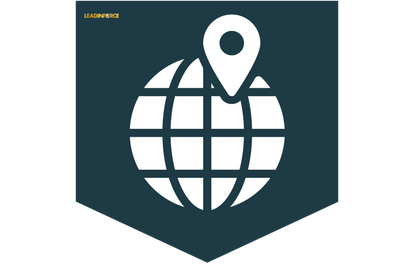 International Mobility
The International Mobility program is ideal for business professionals who would like to focus on interpreting their results when working with a specific country.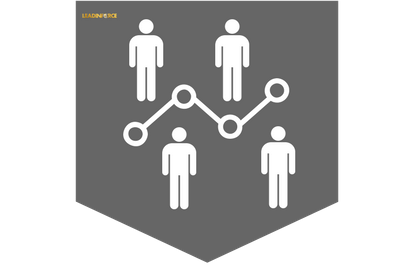 Teams/Collaboration
The Global Team Effectiveness Model is a powerful option for multicultural and global teams aiming to take a closer look at how they can optimize effectiveness through awareness of their work-styles.
You can start now to maximize productivity, results, and success by working with us! Let's have a conversation on how this program will benefit you, your team and your organization.
To schedule a training session for your Team or Business.